SpeakART.
Digitise, store, share.
What is SpeakART
SpeakART transforms collectibles sector making information safe and reliable
Management System
An efficient cataloging and archiving system
SpeakART is an optimised software to manage public and private collections. It allows to have orderly and accessible information available, to save media and documents, to create report supporting the events in the life of an asset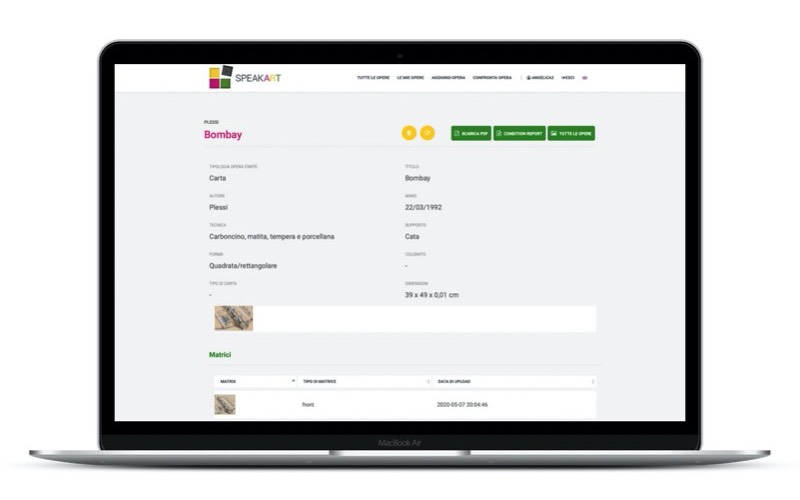 Digital Fingerprint
A permanent link between the asset and its digital identity
SpeakART's proprietary algorithm indissolubly links the identity of an asset with its information. The creation of its digital fingerprint allows to evaluate the conservation status detecting damages, natural decay and forgeries.
SpeakART Insurance
It simplifies the management of the insurance process
SpeakART Insurance is the tool to manage the entire insurance process, simplyfing the workflow of insurance companies, brokers and intermediaries with an immediate and efficient system for an optimised management of documents and data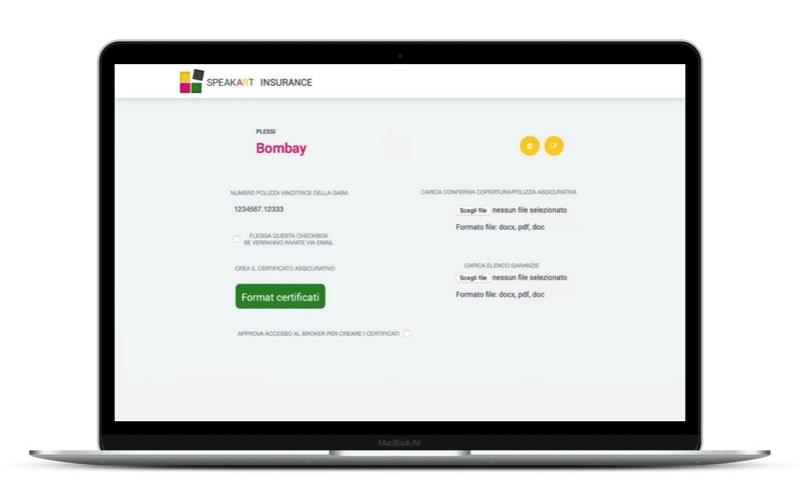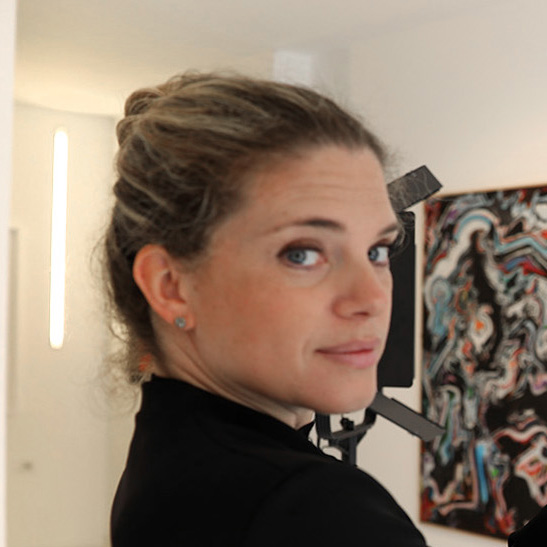 "
The enhancement of the heritage cannot be separed from a correct conservation of data. Digitalisation is useful when it makes this operation easier.

"

Angelica Maritan, Founder
INVITE, SHARE, COLLABORATE
SpeakART offers the ultimate platform for an easy and fast exchange of information between internal users and external players.
It is possible to carry out any kind of activity in person or remotely, optimising the sharing thanks to an invitation system. Each user can manage his collaborators through to a multilevel system and a customizable set of permissions.
Who we address to
SpeakART is a transversal service for all players in the collectibles market
It is an essential tool that guarantees significant time savings and offers the possibility of sharing data and information between users with the same or different license, and guest users to facilitate communication.
news
The latest updates abouto our activities
The Brooklyn-based artist and educator Stephanie Dinkins has been nominated as the first winner of...
Latest news
The latest updates about what contributes to make the art world better
The Brooklyn-based artist and educator Stephanie Dinkins has been nominated as the first winner of...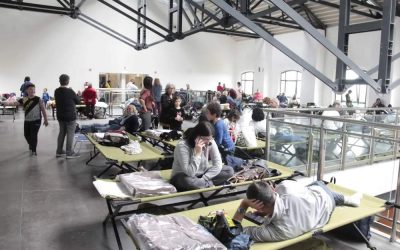 After the disastrous flooding last week in the Italian region of Emilia Romagna, the damage count...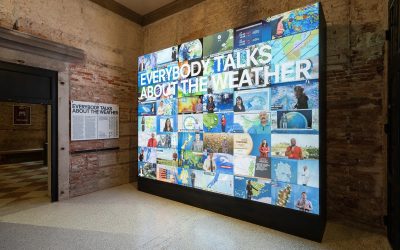 Opened on 20 May at the branch of Fondazione Prada at Palazzo Ca' Corner della Regina in Venice,...
COMING SOON!
S-LOG
A tool designed for the professionals in the shipping and in the storage of artworks, collectibles and passion assets Management of incoming and outgoing assets, inventory control, production of the fundamental documents for customs operations. S-LOG wants to innovate the logistics sector making it more efficient, to connect its operators with the other players in the market.
NFT
We are ready to welcome the innovation that has changed the art market SpeakART will offer the possibility of
– catalog cryptoart in its management system
– enjoy an intuitive and immediate minting service
– have a sales channel for NFT assets