Cataloging
The management of both public and private art collections: multilingual, easy, fast and efficient
Cataloging of the artworks
SpeakART always makes available ordered and easily accessible information
SpeakART manages any collection! Every artwork can be entered easily and quickly in the database by filling in only the first four parameters:
Type of artwork
Name of the author
Title of the artwork
Year of creation
These are followed by numerous fields, in order to offer a description as detailed as possible.
Spaces are proposed to describe exhibitions and restorations that have affected the artwork. An entire section is dedicated to the documentary part and to the most useful images to identify it.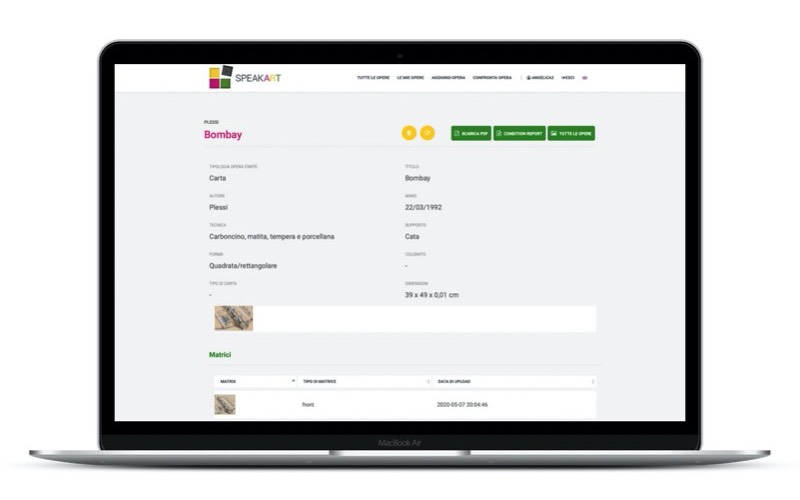 why cataloging with SpeakART
The SpeakART cataloging software is a simple and fast tool to organize information on artworks
Always available information
The software offers the possibility to print or download in pdf the worksheet of the artwork or to invite third parties to view it.
Visibility management
The collections can be kept in private mode or made public with a sort of virtual catalog.
Optimized search
Once the works have been saved in the database, it will also be possible to find them easily with a smart and reactive search to any character entered.
Who is the cataloging system address to
Anyone looking for a more effective management of their artworks
For institutions such as museums, galleries e auction houses cataloging proves to be a useful tool for greater order and greater efficiency, as well as for saving in the use of human resources in order to optimize timing. On a different scale, both small and large collectors can enjoy the same benefits by obtaining a more effective management of their works.