SpeakART Insurance
A system of connection and interaction between the parties involved in the insurance process
we simplify communication
We make a complex process easier by connecting insurance companies, intermediaries and customers
SpeakART Insurance is the tool that allows you to manage the entire process, connecting customers, intermediaries and insurance companies with a simple and efficient system. It is able to automatically manage the lists of artworks, to check offers, to award policies and issue insurance certificates automatically.
Thanks to a simple invitation to participate or to an already active profile, SpeakART platform is able to make insurance companies, intermediaries, customers and possibly even those involved in logistics communicate.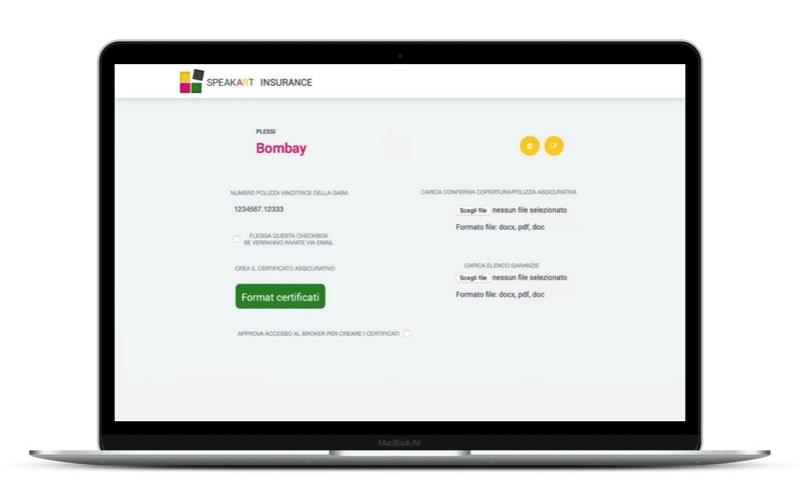 the advantages of speakART insurance
SpeakART insurance facilitates the connection between people to solve inefficiencies and reduce costs
SpeakART aims to solve inefficiencies, in this case it is able to optimize a long data entry procedure repeated several times in the insurance process, which makes the mechanism slower, less secure and more expensive
Loading lists of artworks
It offers space for intermediaries or insurance companies and guests of the collections to upload the lists of works
Requests for participation in tenders
It guarantees the possibility of sending requests to insurance companies through a link to participate in tenders
Send out bids
It is able to communicate the outcome of their offers to insurance companies
Production of insurance certificates
It automatically produces the insurance certificates of the artworks with the company's format
Documents sharing
It allows authorized people to upload and download documents and to share them in real time to interested people, such as customers, providers, logistics and host organizations.
management of artworks lists
We eliminate inefficiencies by simplifying a process that has been complex and laborious until now
One of the problems most felt by operators in the sector, which also affects owners, hosts and lenders of the artworks (often institutional bodies) is the management of the insured works lists. In addition to a constant evolution during the preparation of exhibitions and events, these lists often lack clarity and standards. SpeakART is able to have these lists uploaded both manually and automatically by the system and to manage them in a simple way by preserving the data, keeping track of the changes and storing the information for all subsequent movements of the works.