Condition Report
Drafting, conservation and sharing of the fundamental document for the handling of artworks
streamline times and costs
A fundamental tool for an easy and fast drafting of condition reports
SpeakART is the fastest and most reliable tool to document the status of conservation of an artwork over time: its features include a fundamental tool for an easy and quick compilation of the Condition Reports. They are real tests done on the artworks to define their status and they are usually drawn up on the occasion of loans, exhibitions, and movements of the artworks.
Having the first digital fingerprint and thanks to the possibility of making the comparison, it is possible through the available format to describe exactly the initial and final status, obtaining an evaluation of the status of affairs as objective as possible. Thus, in the case of numerous steps, it is also possible to establish when and where the damage was produced.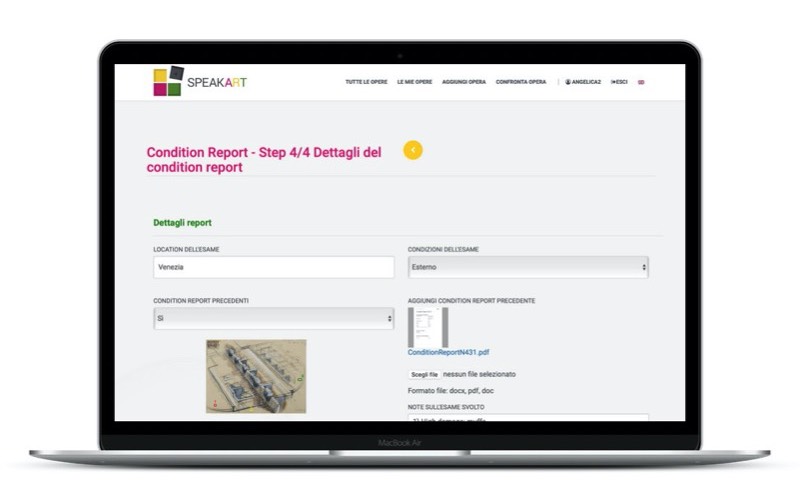 What advantages does SpeakART bring
Reduce time and costs for the creation of the Condition Report
The software draws all available data from what has been previously saved in the customer profile and in the artwork registry.
The first sections about general information and details of the artwork, are followed by the section dedicated to logistics and installation, with useful information for those who interact with the artwork for handling or installation, such as information on environmental conditions.
The last is the most interesting part, because here it is possible to describe the actual conditions of the artwork and give an evaluation. But above all, through the editor, you can highlight and comment graphically the details to be reported or the differences on an image of the artwork
Who is addressed to
To all specialists and experts in the sector
SpeakART also offers the possibility to interact with third parties, such as professionals who carry out the exam, remotely through a link.
The software guarantees the objectivity of the assessments of specialists and experts, also reducing the time to be used for analysis and compilation thanks to the intuitive interface.