Piazza della Signoria contemporary: after Koons, Fabre, Fischer, Penone comes Francesco Vezzoli
The past and present of art have in recent years celebrated numerous splendid weddings in the setting of Piazza della Signoria in Florence, confirming its position as the cradle of culture.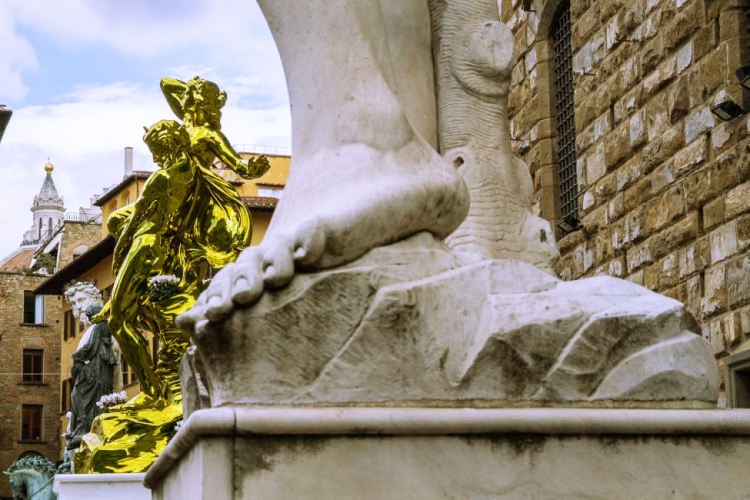 In 2015, Jeff Koons celebrated the Tuscan capital with a re-edition of the most famous Rat in history: "Pluto and Proserpina" was a monumental golden sculpture complete with a marble base that for a few months had found a home in the aforementioned square. A rather daring outcome, especially when compared with the context and the neighbors of the family, nothing else could be expected from the pop artist par excellence.
With all the discussions and criticisms he had brought with him, in 2016 he then left the baton to Jan Fabre, who on the occasion of his "Spiritual Guards" exhibition: thus the imposing turtle of "Searching for Utopia" and the renowned man with the meter in hand – "The man who measures the clouds (American version, 18 years older)" – they had found their place in the Piazza.
The following year it was the turn of Urs Fischer, again on the occasion of the In Florence exhibition as it had happened for Koons: "Big Clay # 4" is a work that is both monumental but equally simple and primordial, it will be accompanied by "Fabrizio" and "Francesco" – honest wax monuments that are consumed and transformed into formless matter.
A few months ago, however, "Abete" appeared, the installation by Giuseppe Penone on the occasion of the celebrations designed to commemorate the seven centenary of the birth of the Supreme Poet, recalling a verse from Dante's Paradise ("the living tree of the top / and fruit always and never loses leaf ").
In October, it's up to another Italian artist: the "Francesco Vezzoli in Florence" project will include the placement of one of his works depicting a rampant lion with a Roman head between its jaws, placed on an ancient plinth, to recall that mix of styles and epochs distinguishes the artist in his latest creations.
He will be accompanied by a second sculpture inside Francesco de Medici's Studiolo inside Palazzo Vecchio: the linguistic and formal dialogues offer "new disturbing muses, recomposing the fragments of a lost civilization, reminding us that art is always, before of everything, a mental fact ", as the works that make up the project" Archaeological stages. Curatorial interventions by Francesco Vezzoli "of the Brescia Museums Foundation, in progress at the archaeological sites of the city.