Interview to the artist Giulio Malinverni and to the gallerist Matilde Cadenti – Marignana Arte
A three-way chat with the young and more than promising artist Giulio Malinverni and with Matilde Cadenti, the founder of Marignana Arte gallery in Venice who represents him. Marignana Arte di Venezia che lo rappresenta.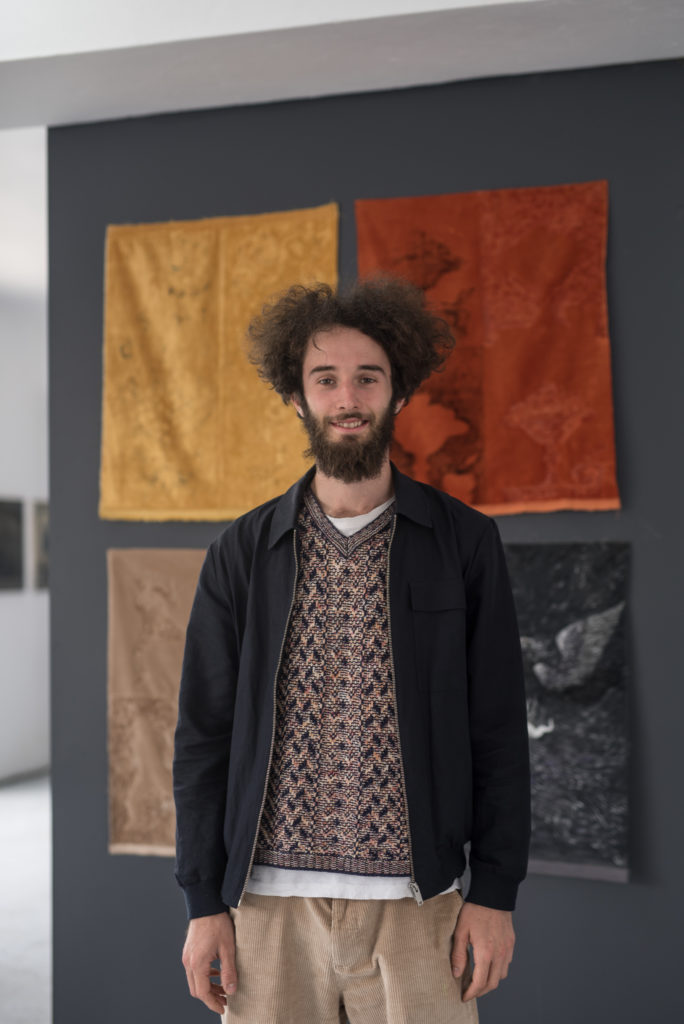 SpeakART: Good morning Giulio, thank you for being here with us. First, tell us something about you. What is your education?
Giulio Malinverni: Good morning, and thank you. In 2016 I graduated in Restoration of frescoes and stone material at Istituto Veneto per i Beni Culturali in Venice. Now I am attending the last year of the Painting specialisation at Atelier F of the Accademia di Belle Arti in Venice.
SpeakART: How did the desire to express yourself through art arise in you? Have you always wanted to "be an artist"?
Giulio Malinverni: Since I was a child, I have always painted and drawn. I grew up in close contact with artworks having two restorers as parents, I could not have any other desire than becoming an artist.
SpeakART: Where does the inspiration for your artworks come from?
Giulio Malinverni: My research arises from the environment that surrounded me from the start: ancient artworks, especially from Renaissance and pre-Renaissance.
SpeakART: How did you know Marignana Arte gallery and how did your relationship develop?
Giulio Malinverni: The relationship with Marignana began after the selection of the 103rd Collettiva Giovani Artisti of Bevilacqua la Masa, where Matilde was part of the jury. I was already aware of Marignana Arte's excellent work, following and appreciating some artists who work with the gallery.
SpeakART: Welcome Matilde, it is always a pleasure. Speaking about your collaboration with Giulio: what prompted you to undertake it? And in particular, what stroke you of his production?
Matilde Cadenti:I have seen Giulio Malinverni artworks at Fondazione Bevilacqua La Masa for the first time, on the occasion of the 103rd Collettiva Giovani Artisti for which I was part of the jury. Giulio's research immediately moved me for its coherence and maturity, although he is very young. His artworks present pictorial genres and iconographic situations that have roots in the tradition and in the history of art, but they are faced and processed with a taste and a sensitivity typical of our close contemporaneity. Another perspective I liked is the visionary and often ironic setting in every artwork, which highlights his expressiveness and intrigues the public. I would also add that other qualities are the technical ability, the knowledge and the control of different materials, which probably has roots in his previous restoration studies that allows him to experiment without repeating.
SpeakART: Would you define Giulio in line with the artists you represent as a gallery, and why?
Matilde Cadenti: Giulio is the youngest between the artists we represent and in a way it has been a gamble to immediately start with a solo show, but it has been well paid off. Although Giulio is a mainly figurative artist and this aspect make it seem him distant from the research we carry out with Marignana Arte, I think he integrates very well thanks to the quality of his production that is the most important aspect for which we select our artists. Our collaborations alternate and mix authors that use different materials, techniques and researches translating the memory of our culture in interdisciplinary and extremely contemporary proposals.
SpeakART: Have you already planned projects and exhibition on which you are working together in the next months?
Matilde Cadenti: Of course, we always define in advance the planning of the gallery. Some of the artworks by Malinverni, together with other artists of the gallery (Infranco, Fineschi, Vazquez e Zanin), will be on view at MO.CA in Brescia on the occasion of the show "At Work!" curated by Ilaria Bignotti, which involves also Piero Atchugarry Gallery and starts from the concept of work as act of identification and empowerment of the individual and the community. We also have planned to bring some artworks by Giulio Malinverni at the 2020 edition of Art Verona, hoping it can occur without hitches from 11th to 13th December. On the occasion of the Biennale in 2021, we have planned a group show on the theme of memory in which Giulio will be present.
SpeakArt: We know that Gucci has used your artworks for an operation on his social networks: how did this collaboration arise?
Giulio Malinverni: This collaboration started unexpectedly, with an email from them.
SpeakART: Do you think that the association between Giulio's work and Gucci could bring benefits from the communicative and promotional point of view, for him and for you as gallery that represents him? Is it an added value on which you think it is good to bet?
Matilde Cadenti: Gucci has always been linked with the art world: in the first place thanks to its owner Francois Pinault, and then also thanks to the work of his creative director Alessandro Michele who often mixes art, fashion and philosophy. What pleasantly surprised us has been the choice to bet on a young Italian artist, a sign that something is moving. The past few months have proved us the importance and the power of communication of social networks, so we can only be enthusiastic about this collaboration which will surely help to promote Giulio Malinverni work.
SpeakART: As an artist, how did you experience the lockdown period? Was it positive for you on a creative and productive level? Were there any repercussions at the level of exhibition projects that should have been realized?
Giulio Malinverni: The lockdown has obviously been a difficult time, not having the freedom to live and move freely. Nevertheless, I managed to deeply concentrate on work and it has been really productive. The group show and my solo show at Marignana planned for March have been postponed, but at the same time other projects were born.
SpeakART: Some months ago we spoke about your experience during and post lockdown. Has the situation changed in some way? Update us on your plans for the future.
Matilde Cadenti: From the end of May, we returned to work at full speed inaugurating together Malinverni solo show in the project room and the group show "I dreamed a dream chapter 2" in the gallery.
At the beginning of September, in our project room we dedicated a solo show to the glass sculptures of Lorenzo Passi in the context of the Venice Glass Week. As we have already told you in May, we have had positive feedbacks: our most loyal public, including many collectors, answered with attention and participation to the events we organized from which new and prolific connections arose. At the moment our goals are essentially these: to continue with our work and to define at best the planning for the next months, the whole always with the maximum care and attention respecting the rules to face COVID-19. 
Next appointment will be Saturday October 31st, when we will open a new group show, Oltrenatura, curated by Davide Sarchioni. The show explores and connects the latest experiments and works of four artists, Giuseppe Adamo, Yojiro Imasaka, Silvia Infranco, Quayola, generating the idea of a crystalized, transformed, manipulated or expressly recreated nature, as an indirect reflection of the new reality arising through images and forms. For the beginning of 2021 we have planned a project room dedicated to some unreleased works by Arthur Duff and a solo show of the great Californian artist Nancy Genn.
SpeakArt: What do you think about the relation between art and technology? Do you believe that the protagonists of the sector are in general ready for a greater digitization?
Giulio Malinverni: Technology is positive, it can help the society and art in a good way. But at the same time I believe that it will never substitute a direct contact with artworks, for example virtual exhibitions will never work.
SpeakArt: Do you believe that SpeakART would be useful also for you as an artist, and in which way?
Giulio Malinverni: Yes, I think that the digitization of an artist archive and the creation of the digital fingerprint of the artwork is a practical and useful system.
Photo: Giulio Malinverni, Barbaglio, tempera and oil on linen, 80×120 cm, 2020