The Korean fight against the patriarchy told by the artist Oh Myung Her in Venice
On view at Palazzo Mora in Venice, the artist Oh Myung Hee makes us retrace the timeline of Korean culture up to the second post-war period.
Oh Myung Hee tells us the story of the conquest of women's rights and recognition, whose movements began precisely in a period of misery and reconstruction of an exhausted community, especially following the Korean War.
From here, women found the seed of courage, and they have cultivated it to the point of rebellion against the patriarchy.
The artist tells that the desire to re-explore this period in the history of her country arose from the discovery of a family photo. The photo depicted his father-in-law with two women at his side: wife and concubine, forced to live together and to serve the head of the family, forced to stifle all aspirations and rights.
The fundamental turning point for the awareness of Korean women was the arrival in Japan, in 1953, of the American icon Marylin Monroe. Her performance in front of the 17,000 soldiers revealed to each woman the power of femininity.
Precisely a statement by the American actress inspires the title of the exhibition: "It was snowing but I felt warm".
In this exhibition, Oh Myung Hee embodies the powerful prism of femininity and freedom in the twirling petals of the peach blossom, among which graceful swallows and butterflies fly free. The family old photos are on the background.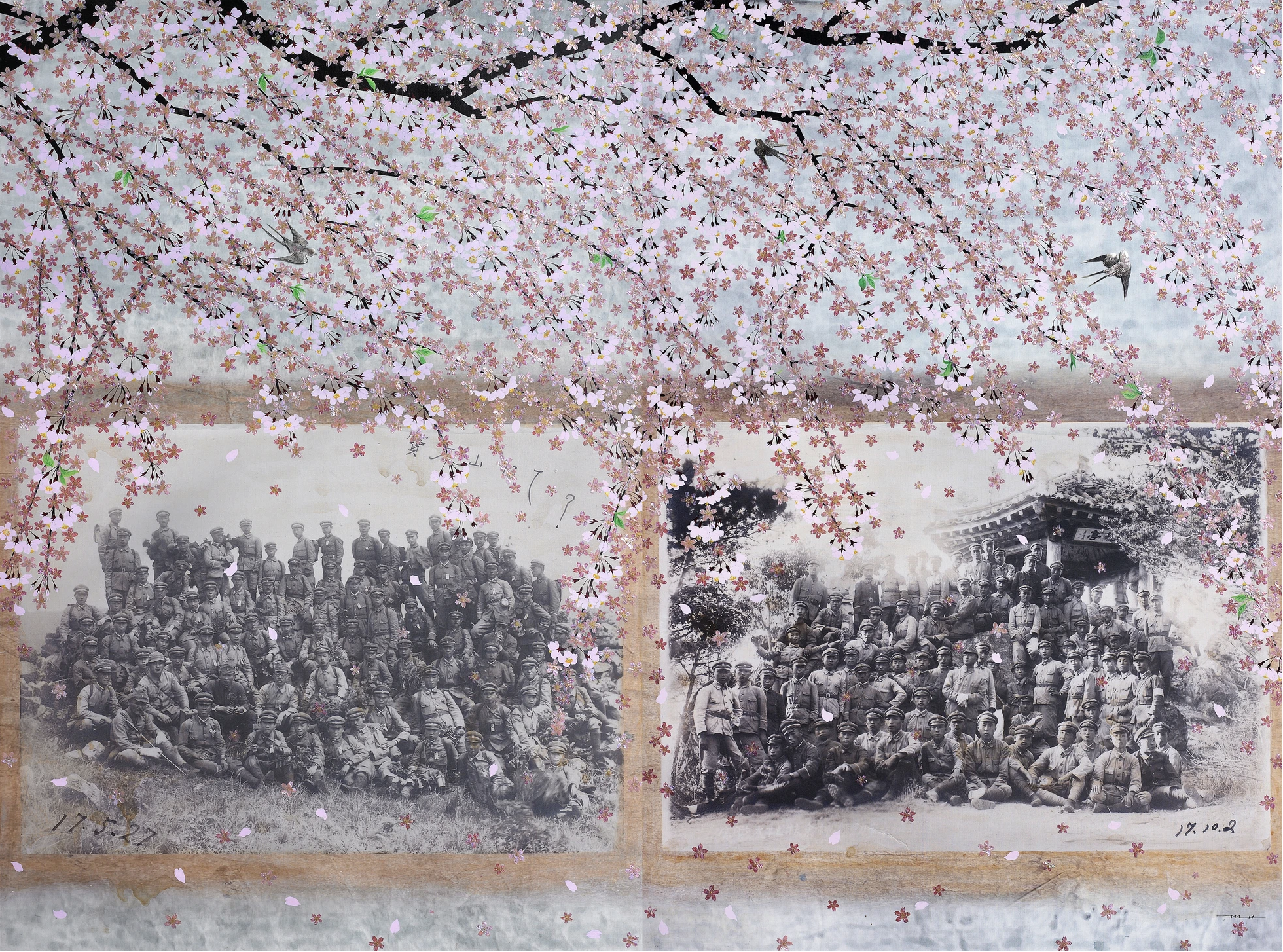 Oh Myung Hee, The days were snowy but warm, 2022 – Courtesy Oh Myung Hee
The words of the artist resonate powerfully, affirming a strong message of trust, addressed to each of us: "Just like in life, my works aim to communicate that, although we face pain, conflicts and countless difficulties, spring is back around, and just as flowers bloom, so too does hope and warmth ".