Who disturbed Mauro Reggiani: the trade of artist's fakes has been unmasked
A new case of trade in falsified works of art was brought to light thanks to an operation conducted by the Carabinieri of the Cultural Heritage Protection Unit of Bari, part of an investigation by the Lecce Public Prosecutor's Office.
This time the protagonist is Mauro Reggiani, one of the leading exponents of Italian geometric abstractionism: from the 1934 exhibition on abstract art in Milan, to the Biennale of the 1960s, up to contacts with Carrà, Funi and Kandinskij.
His works, famous all over the world, have been in the spotlight for a few days: in fact, sixty forgeries by the artist have been found scattered throughout Italy, from Padua to Cagliari, in the homes of unsuspecting buyers deceived by the sales network that managed them. the Commerce.
The investigation began in 2019 thanks to the report of the Association for the protection of the works of Mauro Reggiani, set up just that year: the association had in fact received numerous requests for verification, thus raising several doubts regarding the veracity of the works.
The fakes were put on the market thanks also to the collaboration of galleries, art dealers and private collectors: a real criminal group that worked through digital e-commerce platforms thus deceiving numerous customers.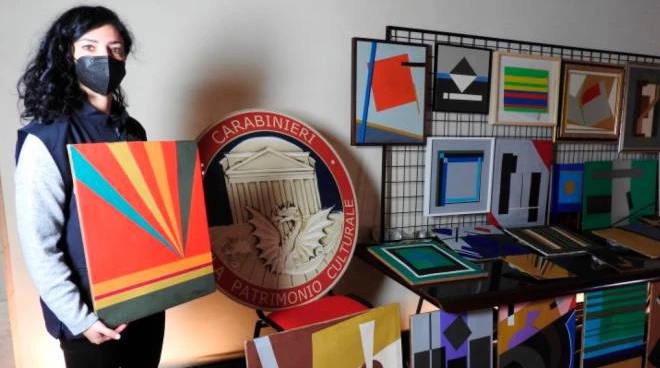 The seized works were put on the market with a variable value, from 15 to 70 thousand euros, thus guaranteeing a profit of one million euros for the organizers.
The fakes appeared identical to the original works, with the only difference in the use of colors: the works are in fact copies of works published in the general catalog dating back to the nineties, whose photographs were printed in black and white.